Safety comes first, that's our car workshop's motto. We want you and your family to have the drive of your life and that is why it is our car garage's priority is to make your journey as smooth as possible
Before
Is your car damaged beyond recognition? You came to the right car repair workshop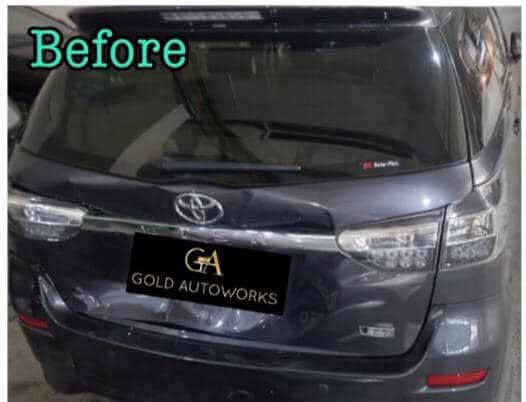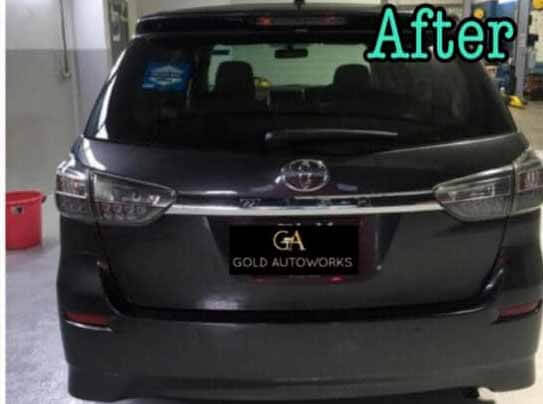 After
There is no sign of the previous accident and any car dent or scratch. The car seems brand new.
When customers get into an accident, this is what customers should do and this is what we will do on our side.
Check if the vehicle is still safe to drive. If it is unable to, arrange for a tow truck for the vehicle to be towed back to the workshop for assessment.
Ask or bring him to make a report of the accident to an approved reporting center.
Arranging a replacement vehicle due to availability if no helping him to claim loss of use
Liase with insurer and surveyor to conduct damage survey. If the owner does not want to claim, we will assess the damage and let him understand what is needed to be replaced or repaired and the cost.
Surveyor to validate on the parts changed
Installation of genuine parts and accessories, restoration of the damaged areas
Proceed to spray painting if needed.
Lastly, after the car is fully repaired. We will conduct a quality assurance check by our professional and final check by vehicle owner prior to sign off and hand over.
Contact Us Now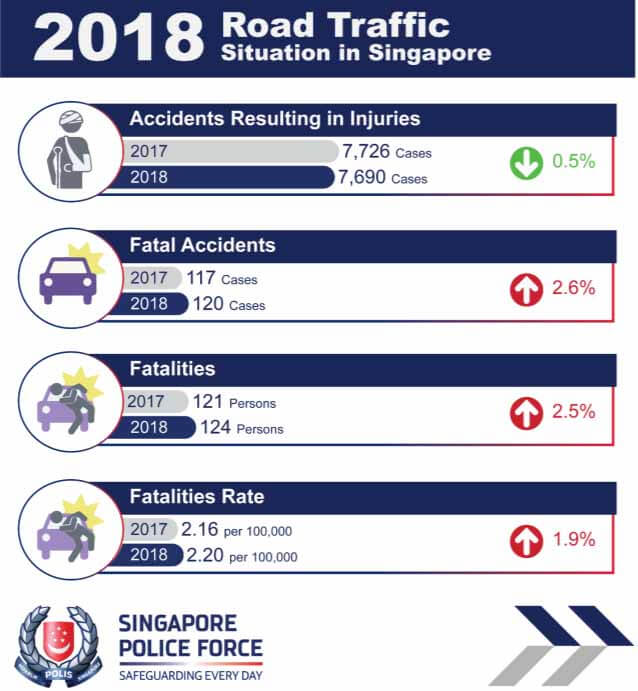 Singapore's Road Traffic Accident
Situation 2018
The road traffic accident situation in 2018 remained stable. There were fewer road traffic accidents overall, but the number of fatal accidents increased slightly.
While there were fewer speeding violations and related accidents, there were
increases in the number of red-light running violations and related accidents, as well as drink-driving related accidents. Elderly pedestrians and motorcyclists continue to be of concern.
TP urges all motorists to look out for elderly pedestrians and give way to them. TP will continue to educate senior citizens on the dangers of jaywalking. Members of the public should also reach out to their elderly friends and relatives, to encourage them to abide by traffic rules for their own safety.

Regularly servicing of your car can make the difference between it running smoothly and fuel efficiently. It is an investment that will save you even more in the long run, do not neglect it! Mark your dates and contact us.

We have a Team of well trained and experience mechanics to do all types of repair for your vehicle. Bring it down and let us do a thorough checks for your vehicle.

Meet with an unfortunate accident? Do not panic, contact us immediately 81999149 we have a professional claim officer to guide you on what to do.
Offering competitive prices for your Corporate Fleet maintenance. We also offer fleet consultation and quote to help you save cost and time.

Professional car spray paint services for all types of car makes and models. Choose a color that you like and end it off with matte or glossy finish.
MAKING A DIFFERENCE TO YOUR CAR SERVICE EXPERIENCE
Being a reputable and experienced car workshop in Singapore, we endeavour to provide reliable, affordable as well as transparent car servicing/car repair work to you.
Get In Touch
This is what differs us from our Competitor
Shuttle service
When you send your car in and realise that you need to leave your car behind for further works; we'll offer you free shuttle service.
Pick Up & Delivery Service
We provide pick up service from your location and deliver it back to you once your vehicle is done
Professionalism
We tailor our recommendations to your needs and we won't do any selling.

You Decide
We won't do anything without your approval. Hence, you have a clear overview of the entire process.
Special Buddy Promotion For Car Owners- On referring a friend for car servicing or car repairs, get a 20% discount for both of you. On referring two or more friends get 30% Off for all of you. PM us for the appointment.
Hurry!! Offer ends on 31st January. 😃
For the full list of car servicing promotion price, visit https://goldautoworks.com.sg/promotion/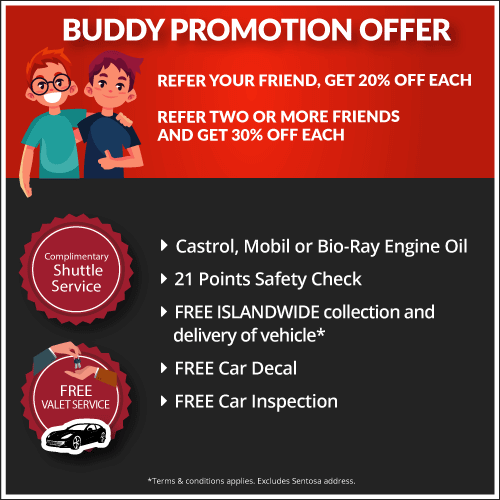 WHAT OUR CUSTOMERS HAVE TO SAY
"I am very pleased with the care and services that Simon has provided to me. I highly recommend Gold Autoworks for the following reasons. He has a good sense & knowledge in the car servicing & performance industry. In fact, this is why I engaged them in the first place. Not only himself is good, he also has a very strong team. He is very responsible and responsive. Whenever I send him whatapps messages, he will reply very promptly to my doubts & questions regarding my car. This aspect he has done, is way beyond my expectations. Lastly, he is easy going and reasonable. Discussions/engagements with him had never been easier. It was more like friends than clients-workshop relationship. His after sales service is good as well. Thank you Simon!"

Javier Lee
"Sincere and knowledgeable team! They are able to diagnose problems fast and provide solutions effectively & accurately, and this really helps to save my time and money in the long run. Team has excellent customer service and are able to provide help at any time of the day. My last servicing was with Simon, he has been very responsive towards my enquiries and provides updates on the progress of the repair. Simon is sincere, very knowledgeable and professional at what he does. Great customer service as he would take time and effort to explain the situation to me. I highly recommend GA!"

Fong Li Fen
"Having been to plenty of car workshop for the past 15 years, this is one of the best that I've ever went to & I would like to share this to all my relatives & friends. I had made a servicing appt earlier for today 3pm & I arrived shapely on time & the technician started the servicing job immediately even thou there were other vehicles in the workshop which save me lots of time on waiting. They also provide free vehicle inspection & recommendation on the replacement of spare parts @ no obligation, No salesman talk which I hates most. Having great satisfaction on all the jobs done today @ reasonable price. My overall experience w Gold AutoWorks is really great & I would highly recommend it to all my relatives & friends."

Lucas Goh